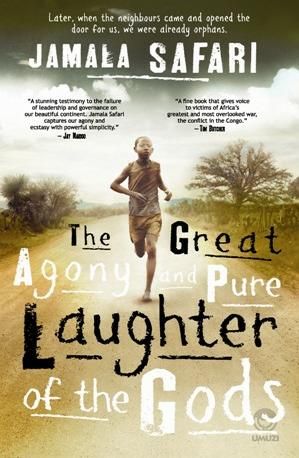 We all know that literature has the power to change minds, if not the world, to open eyes and hearts and through understanding, create empathy. The Great Agony is such a book, one that cracks open the issue of refugees and asylum seekers, and at a time when the coals of xenophobia are once again being fanned in South Africa, it is an important one. It also bares, with gutting precision, the experiences of child soldiers. In Safari's hands they step out of the familiar news photographs of wild-eyed, ragged, gun-waving demons to become the drugged, traumatised, homesick children they really are.
Fifteen-year-old Risto Mahuno's world is literally shattered when a bomb goes off on the soccer field of his hometown, Bukavu, in eastern Congo. His best friend is killed before his eyes. Fearing for his safety, his parents send him away, but they still can't protect him from the marauding militias who abduct him and force him into the ranks of the kadogo – boy soldiers. When he is eventually able to escape, he sets off on an epic 2 000 km journey to the relative safety of a refugee camp in Mozambique. Ultimately he will return to his home.
Safari's style is lyrical and almost innocent, as befitting the voice of a 15-year-old. The story is rich with images: "We heard Mama and our sister yelling and yelling, like birds whose feathers are being pulled out while alive," he writes, of a brutal rape. Nor is it all grim, for threaded through it is a enduring love story.
The Great Agony is a deeply affecting, but in the end uplifting story, and you will find the headlines about the current upheaval in DRC, the conditions of refugee camps in Africa and the spurts of violence against foreigners, take on a new meaning. When you hear French in the street you will wonder what journey its speaker has taken to make it to South Africa.
Jamala Safari was a student when he left his home town of Bukavu, running away from war. He arrived in South Africa in 2006, and taught himself English.
He built a strong network of friends in Franschhoek where he worked and lived for 5 years, a network that would later assist him to hone his writing skills, and he went on to publish his first collection of poems in 2008.
As he longed to resume his studies, he worked hard and saved just enough to take him through his first year of studies. During his time at university, he took on several jobs to fund his studies; including radio presenting, writing, car guard (for 3 weeks at N1 City Mall), acting, and working as a call centre consultant and lab assistant.
Although he spent more time outside the lecture hall he still maintained high grades and became a member of the Golden Key Society after his first year of studies.
He finally received a partial bursary from HCI Foundation to complete his degree in Biotechnology at the University of the Western Cape. He currently works in the Corporate Social Investment wing of a South African corporate.
Book details
» read article